The Lost Coast of Alaska Equipment List: Bikepacking Straps to Packrafts...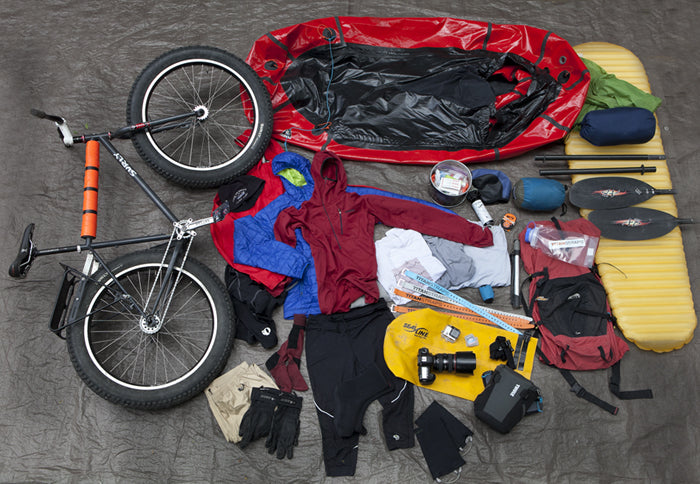 Titan Straps Bikepacking Straps
When Cameron Lawson embarked on his first Lost Coast of Alaska adventure from Yakutat to Juneau in the early 2010s, he made a detailed list of the gear he took. The key to packing for any backcountry trip, he says, is bringing only what's necessary with little excess.
"From my bikepacking straps to my tent, each piece of equipment had to be utilitarian, and if possible, multi-functional," he explains. "It's fun to plan and put together a gear list, then modify with experience. I've learned a lot from other backcountry travelers, so I hope this is useful info."
In addition to all the items listed below, Cameron took a Surly Pugsley, KMC rust-buster chain, single speed 1:1 ratio/ 22 tooth, all derailleurs and brakes stripped off to make a firey, beach ridin' machine! PS- Not included is a map and compass, which we'll certainly bring. And, of course, he brought his prototype Titan Straps, which he used as bikepacking straps.
Watch a video of Cameron's other Lost Coast adventure on out blog post, "Bikerafting the Lost Coast South." Or visit National Geographic to see photos and read Cameron's August 2013 story, "Alaska's Lost Coast by Bike & Packraft: Blind Date, Alaska Style."
Check List
PERSONAL CLOTHES
OUNCE
KILOGRAM
Patagonia Torrential rain pants
8.8oz
0.25kg
Patagonia Torrential rain jacket
13.6oz
0.39kg
Patagonia mid-weight top
6.4oz
0.18kg
Patagonia silkweight S/S top
4.8oz
0.14kg
Patagonia silkweight L/S top
6.4oz
0.18kg
Patagonia mid-weight bottoms
6.4oz
0.18kg
Patagonia NanoPuff jacket
12oz
0.34kg
Patagonia R1 hoodie
12.8oz
0.34kg
Black Diamond gloves/shells
4.8oz
0.13kg
NRS neoprene socks
4.8oz
0.13kg
Smart Wool ski socks
2.4oz
0.07kg
Smart Wool ankle high socks
1.6oz
0.04kg
Oboz Traverse Running Shoes
16.6oz
0.47kg
BallCap
1.6oz
0.04kg
Patagonia Lotus Designs Skull Cap
1.6oz
0.04kg
Pearl Izumi bike shorts
7.2oz
0.20kg
Moutain Hardwear 3/4 tights
6.4oz
0.18kg
Mosquito Head Net
0.8oz
0.02kg
lycra ankle gaiters
3.2oz
0.09kg
 
 
 
PERSONAL GEAR
 
 
TitanStraps (4x)
9.6oz
0.27kg
Thule camera pack
17.6oz
0.50kg
GoPro Hero3 Black Edition
2.6oz
0.07kg
Canon 5D, 24-70mm/2.8 +  battery
28.8oz
0.816kg
Alpacka Raft -llama
93.6oz
2.65kg
Alpacka inflation pump
4.0oz
0.11kg
Aqua-Bound (splat)4-piece paddle
36oz
1.02kg
Nalgene 48oz. H20 Bladder bottle
2.4oz
0.07kg
Seal Line Baja Bag 20 liter
15.2oz
0.43kg
The North Face-Propel
24.8oz
0.70kg
Cascade Designs NeoAir Sleep Pad
12.8oz
0.36kg
Bear Spray (1 cansister)
11.2oz
0.32kg
Personal Care Kit (t-paste, advil etc)
8.8oz
0.25kg
 
 
 
GROUP GEAR
 
 
Alpacka repair kit
3.2oz
0.09kg
Bike repair kit
10.4oz
0.29kg
Black Diamond Megalight tent
26.4oz
0.75kg
Aluminum cooking pot
12.8oz
0.36kg
Bike pump-shorty
8oz
0.23kg
SPOT w/ tracking
4oz
0.11kg
cotton balls/vaseline fire starter
4oz
0.11kg
 
 
 
FOOD 4,000 calories/day
 
 
Freeze Dried Dinners (12)
83.2oz
02.36kg
Snack and Breakfast food
461.6oz

13.08kg

 
---