Bozeman Fire Department saves 45 seconds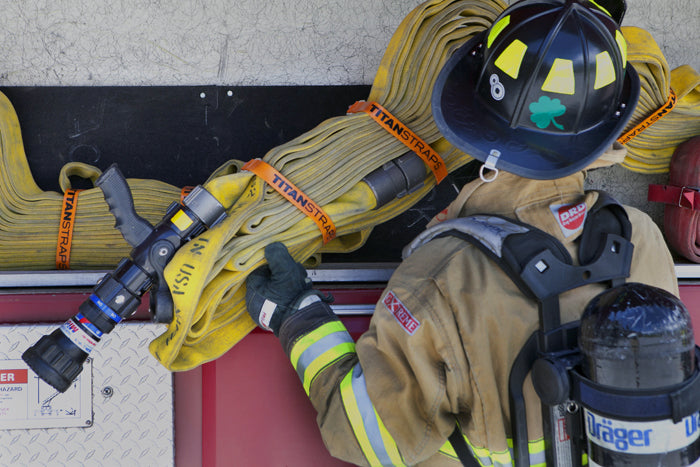 Fire Department Switches to Titan Straps
Since switching to Titan Straps, Bozeman's fire department saves approximately 45 seconds when deploying the hoses. It doesn't seem like a lot of time until your home is on fire.
"
Titan Straps are very easy to use, offer lots of adjustability, don't absorb water and freeze, no moving parts to bend or break, chemical resistant. The 25" Titan Straps are equally adept at securing loads in Arizona's blistering summer heat or the typical sub-zero temperatures found in the far reaches of Alaska in January.
Bozeman Fire Department (Montana) used to use cam straps to organize the hoses. Now they use Titan Straps and they save about 45 seconds now deploying the hoses.
Remaining supple in extreme temperatures and climates, Titan Straps constructs straps from a stretchy, high performance polymer injected with a 10-year UV additive for extra longevity.
A polished, heat-treated aircraft aluminum buckle is over-molded in the manufacturing process for bombproof strength. Simple in design, high in function, you'll find hundreds of uses for Titan Straps. Secure ladders, PVC pipe, rebar, and 2 x 4's onto lumber racks, bundle hoses, or organize items in your garage.
Titan Straps offer excellent adjustability and can be daisy-chained together for extra length. When the mercury drops, you'll appreciate the aggressive pull-tab for use with winter gloves or mittens and our straps can easily be 'quick released' with one hand. In addition, the straps are non-marring so you don't have to worry about scuffmarks on your vehicle.
The high-visibility strap doesn't use hooks, making them safer than typical bungee cords."
---